Celebrate Christmas in the Florida Keys
Tripsmarter.com gives us ideas for this year's Christmas !
Christmas Events in the Florida Keys
By Kim Works –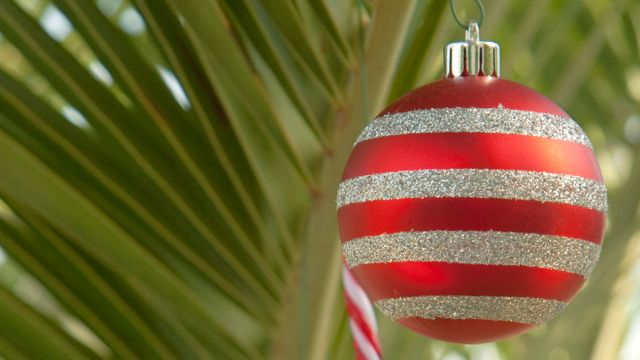 Key West & the Florida Keys, FL
The city of Key West hosts an annual holiday Parade This is a very popular event for all ages as it travels from Bayview Park down Truman and ends on Duval St.Over on the Key West Historic Bight, there will be a celebration and lighting of the bight. They even have a lobster trap Christmas tree that's a must see.

The historic lighted Inn tour. This self guided tour is a perfect way to 'see inside' the beautiful historic inns in downtown Key West and the trolley is available so you don't have to walk a long way.
The Upper Keys celebrates with the annual Florida Keys holiday fest at Founder's Park in Islamorada, complete with snow for the kids to play.You can get your holiday picture taken with a dolphin at the Dolphin Research Center on Grassy Key from now until Christmas.  A great photo idea for the front of your holiday cards!
Decorate your bicycle and join in on a lighted bike ride in downtown Key West, there's no lack of lighted boat parades in the Keys including:Look for Parades throughout the Keys:
Key Colony Beach
Big Pine and the Lower Keys
Boot Key Harbor in Marathon
The Upper Keys along Blackwater sound
The Schooner Wharf bar lighted boat parade in the Key West harbor onPlus don't forget to hop in a convertible and ride through the keys at night. You'll see delightful holiday decorations throughout the islands… after all, a lighted palm tree rivals snow anyday!
Merry Christmas and Happy New Year!
When in the Florida Keys, we are your home away from home

KEYS CARIBBEAN LUXURY RESORT VILLAS & MARINAS  Whether you contemplate visiting the Keys for vacation or some of the many fishing and cultural activities going on all year around-
Anytime  you are in the Keys: Winter, Spring, Summer or Fall……  STAY WITH KeysCaribbean Luxury Resort Villas & Marinas IN OUR AMAZING PROPERTIES THROUGHOUT THE KEYS-
You will be glad you did…

In The Upper Keys: In Key Largo and Islamorada, where KeysCaribbean Luxury Resort Villas and Marinas has the exclusive location –Mariners Resort Villas & Marinas
In The Middle Keys: In the Middle Keys, KeysCaribbean Luxury Resort Villas and Marinas has the Village at Hawks Cay Villas on Duck Key, Indigo Reef Resort Villas & Marina and the Coral Lagoon Resort Villas & Marina vacation rentals in Marathon

In The Lower Keys: In the Lower Keys, KeysCaribbean Luxury Resort Villas and Marinas has the Coral Hammock Resort Villas and Kings Point Marina & Condominiums vacation rentals