This week we focus on the Lower Keys and specifically Key West…It is the jewel of the lower keys and there is NOTHING you can't find here.
BEST ON KEY WEST
The BestonKeyWest reccommends what we do while in Key West
Key West has an abundance of things to do, and has become a United States top vacation spot because of this. There is an activity for any type of personality, and a tour for any interest. Even though this island is known for its pristine beaches, and mystical underwater playgrounds of coral reefs and marine wildlife to explore for the outdoorsy visitors, it also has tours on land for sightseeing and history buffs. Visitors could come to Key West 100 times, and have a completely different experience each time with all the different things to do.
Key West Fun Activities to do in the Water
There is an endless amount of things to do in the waters surrounding the keys. Of course, the most popular activity is snorkeling! There are all kinds of different tours that involve Key West snorkeling, so it will be easy to pick one that best suits your vacation. The best tour for snorkeling is the snorkeling offered in the Dry Tortugas. This beautiful, historic landmark is the destination for avid snorkelers from all over the world to see, and there are two way of reaching this destination that lies almost 70 miles off the shores of Key West: by the Yankee Freedom Dry Tortugas Ferry or by flying the Dry Tortugas Seaplane Excursion. Both tours offer patrons snorkeling gear.
If you have always wanted to try scuba diving but don't have the time to get certified, we highly recommend trying this "next-best-thing" activity, Snuba Dive. It's basically a combination of Snorkeling and Scuba Diving, and is a great way to explore the coral reef of Key West. If you are looking to get Scuba Diving certified, try one of the many tours offered on the Scuba Instructions tour page. Don't know how to pick just one water activity? You're in luck, because now there are "Do-It-All" tours, that help you knock out all the fun water sports and activities there are to do in the water, all at once. These all-incluse Key West tour packages are the ideal way to sample a wide variety of watersports and activities.
Things to Do on the Island
We know not everyone wants to be in the water for everything they do in Key West. In the Keys, there are so many things to do, and the best part, you can get to most of everywhere on the island by walking or biking. For the history buffs, see the treasure that has been discovered off the Florida shores, the Mel Fisher Maritime Mueseum, or see the house that once was a getaway home to President Harry S. Truman, and served as a vacation home to other political figures by doing the Little White House tour. If you're more interested in maritime history, and shipwrecks, then the Shipwreck Historeum Museum is what you're looking for. With live actors, lasers, and a chance to lookout from a 60-foot lookout tower, make the experience remarkable. Think you have what it takes for a spooky connection with the spirits of the Keys? Try the world renowned Ghost Tour, which has been featured on the Discovery Channel, History Channel, Travel Channel, and BBC for being the best ghost tour in Key West.
Getting Around Key West
Key West has to be the easiest place on the planet to be able to find transportation to get around on your vacation. Whether by airplane, bike, bus, scooter, or boat, there is something for everyone. Lloyd's Tropical Bike Tour gives visitors a warm welcome while enjoying the relaxed atmosphere. With the bike, it is easier to roam down side streets and hidden lanes, and get to see the quainter side of the keys. Want to sit back, relax, and enjoy sightseeing while having a tour guide point out historic sights, and listen to interesting stories? Try one of the oldest and most famous sightseeing tours, the Conch Tour train. Entertaining visitors since 1958, the tour has given over 10 million guests the glimpse and history of Key West. If you're looking to get around on your own time, and don't want to do a tour, or drive your car, you may want to see the options of the different electric car rentals or scooters there are. With the electric car rental, you have a chance to take a whole crew of 6 around. But if you are more of a motorbike type, then check out the different scooter rentals there are, and be amazed be how affordable it is. One of the most exceptional tours offered to give visitors an unforgettable memory are the airplane tours. Get swept off your feet as you fly up and away to get a different perspective on the keys with the Island Biplane tour.
Places to Stay in Key West
Well we – KeysCaribbean Luxury Resort Villas and Marinas– aren't in Key West, but either come to stay at our other Florida Keys spots or give us a call and we will refer you to the perfect resting spot in Key West.
Key West Tour Guide
Still having a hard time deciding what to do on your Key West vacation? Check out our Things to Do in Key West page to get a better understanding of all the choices Key West has to offer.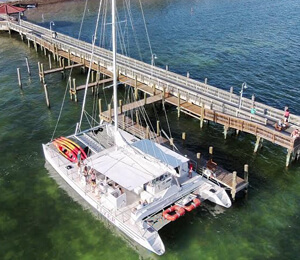 Come enjoy a complimentary Champagne Sunset Catamaran Sail as a gift for joining us on Key West's top Do-It-All excursion. Enjoy all the fun in the sun of the Power Adventure including kayaking, snorkeling, parasailing and jet skiing. Then enjoy a relaxing two-hour journey to watch the famous Key West sunset.
Key West Activity Map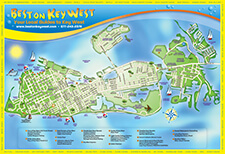 Download a free activity Map of Key West with locations of fun things to do in Key West  Download
---
---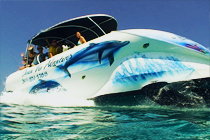 The Ocean Vue Adventure was one of the best things about our trip to Key West. My wife and Kids had a blast.
KEYS CARIBBEAN LUXURY RESORT VILLAS & MARINAS 
Whether you contemplate visiting the Keys for vacation or some of the many fishing and cultural activities going on all year around- anytime  you are in the Keys: Winter, Spring, Summer or Fall……
While you are in the Florida Keys, Stay with Us
In the Upper Keys
In the Middle Keys,
In the Lower Keys,